LG 4.1 CH Bluetooth Wi-Fi Sound Bar with Wireless Subwoofer
Key Features
4.1ch 300W
High Resolution Audio
4K Pass Through
Adaptive Sound Control (ASC)
WiFi / Bluetooth
TV Matching (55″ and Above)
Delivery
Eligible for same day delivery
Warranty
1 year (does not include products displayed in the clearance sale )
Share

TV Matching Design, complementary perfection
The Sound Bar perfectly matches with LG TVs in its elegance and simplicity. It is designed specifically to fit your TV.
Provides the Perfect Fit with a special TV stand bracket unifying your
TV & Sound bar. *Support Model : 2017 LG 65", 55" OLED TV (C7, B7)
/ 65", 55" Super UHD (SJ85, SJ85, SJ80) & UHD (UJ75, 65)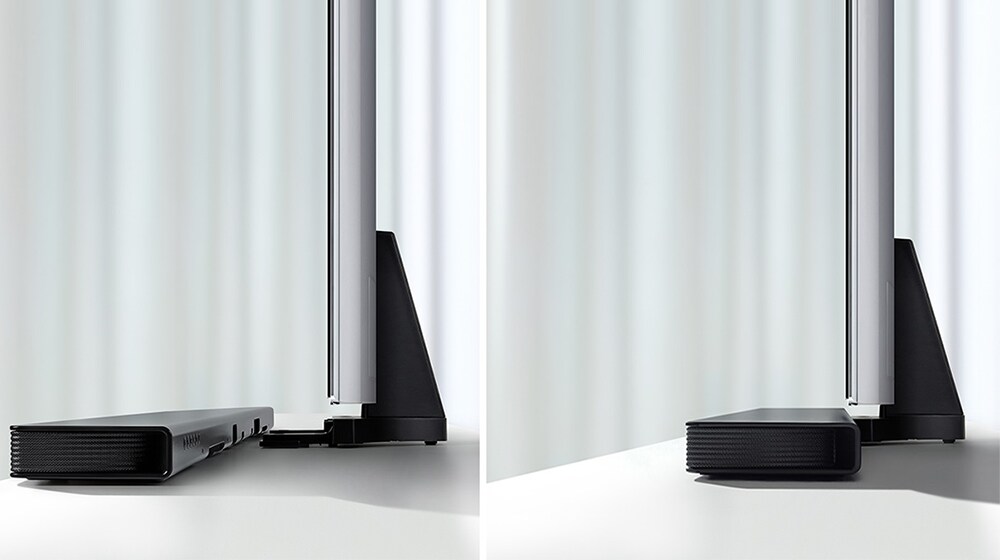 To reduce the height of the SJ8 without compromising sound performance, a new driver was designed. By elongating the driver, the SJ8 can achieve
the sound pressure and performance of a much larger speaker.
High-Resolution Audio, hear lifelike audio
Play WAV, FLAC and ALAC formats, as well as files of up to 24-bit and 96 KHz.
These types of files provide higher fidelity and can sound more lifelike than CDs.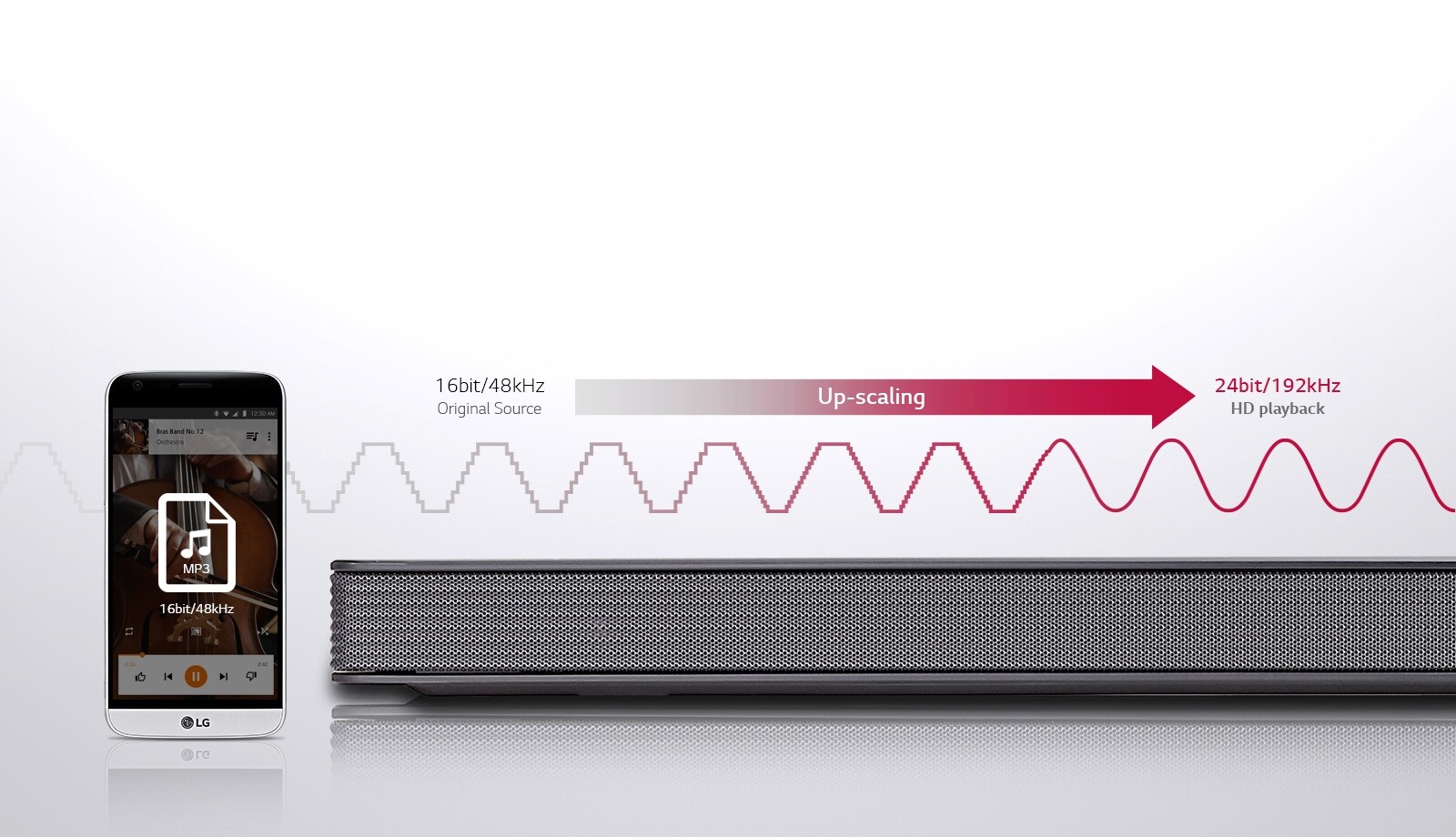 Sound Upconverting, for every sound refined
Indulge your ears with your playlist converted to high-resolution audio (24 bit 192kHz).
4K Pass-Through, experience the best as intended
Enjoy your favorite movies in superior quality, just as the directors intended it.
Why 4K pass-through matters for entertainment?
Lossless audio requires transmission over HDMI cables, as the data size
is too much for an optical cable to handle. This is why important to
plug your source into the Sound Bar.
Wireless Subwoofer, superb bass without wires
Place the subwoofer where it looks and sounds the best without the worries of wires.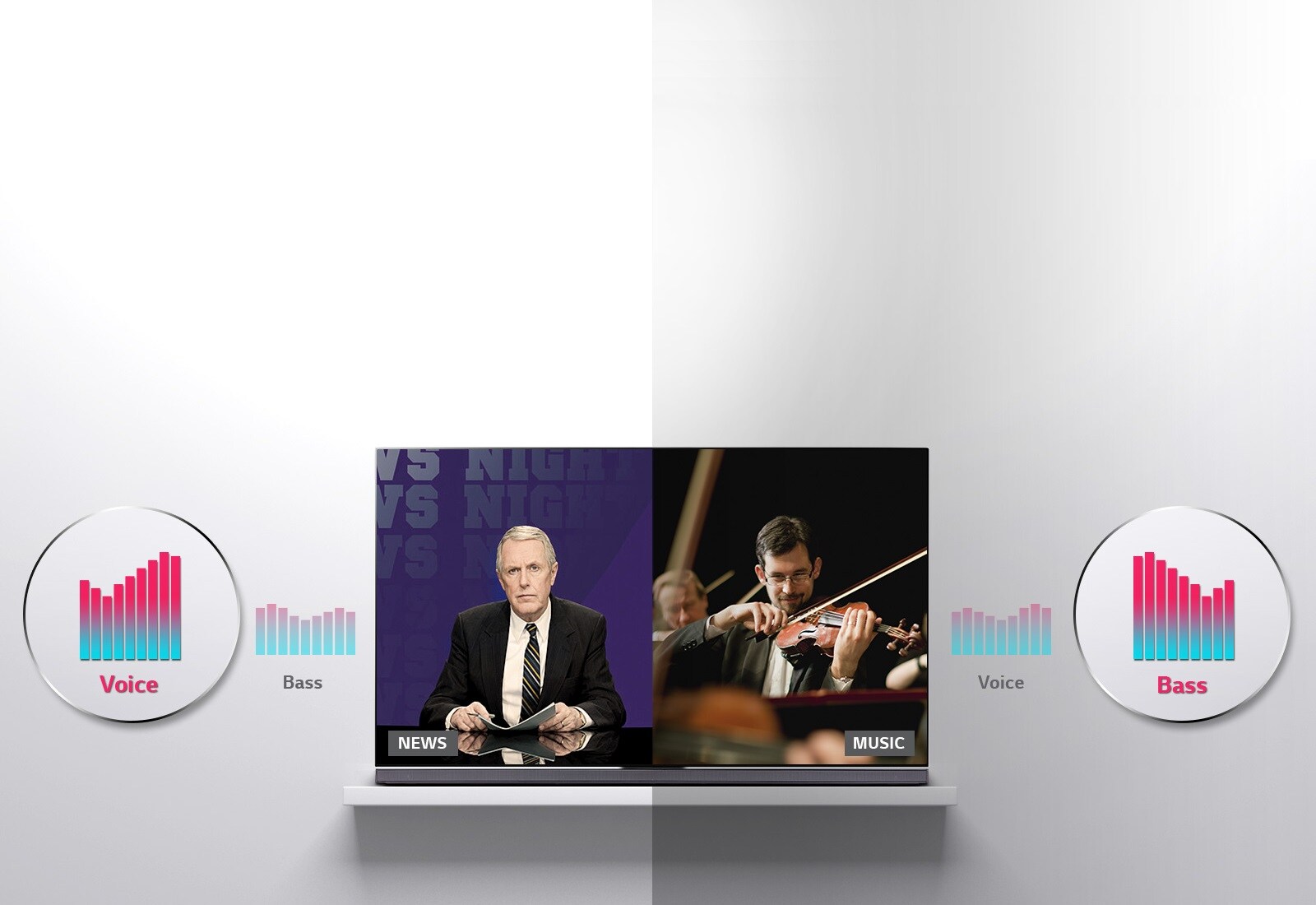 ASC right sound for any content
Adaptive sound control analyzes content in real time.
When ASC detects that you are listening to Dialog it automatically adjusts to allow you crystal clear dialog, when it senses action it raises the sub for more impact.
Auto Sound Engine, sound balance at any volume
LG Auto Sound Engine optimizes your sound at any volume level and maintains precise frequencies at all times.
This provides the appropriate sound balance regardless of the volume.
Wi-Fi & Bluetooth Compatible, stream anything
LG Sound Bar can play any music or run services from your mobile devices without any limits.
The Wi-Fi allows for superb audio quality while Bluetooth connectivity provides you with ultimate compatibility.
Chromecast built-in
With built-in Chromecast audio software you can now cast millions of songs, podcasts and stations from your phone directly into the Sound Bar. Use your phone as a remote to search, play and pause music and adjust the volume.
Music throughout the home with Chromecast audio
Bulit-in Chromecast Audio allows you to group compatible devices, letting music flow all over the home.
Auto Music Play, music that follows you
Sound starts the moment you enter the room With Auto Music Play activated the bar can automatically take over the playback of the audio from a connected device the moment it sense the device is nearby.
Control with your TV Remote
LG Sound Bar comes with a remote but you can choose to use your own *TV remote as well.
(*LG, Sony, Philips, Sharp, Panasonic, Vizio, Toshiba and Samsung brand remotes).
Brand
LG
Model No.
SJ8
Channel
4.1
Display Type
LCD
Connectivity
Optical In
HDMI In / Out
4K Pass Through
Bluetooth
Sound Sync
Google Cast
WiFi (Multi Room Network)
Sound Mode
ASC (Adaptive Sound Control : Default)
Standard
Bass Blast
Cinema
Audio Mode
LPCM
Dolby Digital
DTS Digital Surround
WAV
ALAC
MP3
WMA
MPEG4
AAC+
AIFF
Total Output Power
300W